First Aid Programs
Safety Training for Everyone

Safety training to give people the confidence, knowledge and practical skills needed to respond in an emergency situation.

Convenient customized courses at your work place, home or our training center.

New guidelines taught, recognized by WSIB.

Courses include all material and certification card.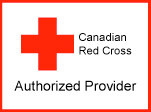 First Aid and CPR Training Courses
Safety training to give people the confidence, knowledge and practical skills needed to respond in an emergency situation
Convenient customized courses at your work place, home or our training center
New guidelines taught, recognized by WSIB
Courses include all materials and certification card
Standard First Aid and CPR B or C
Work place, education, professional requirements
Preparing to respond and EMS Systems
Check, Call, Care
Airway, breathing and circulation emergencies
First aid for respiratory and cardiac arrest
Head, spine, bone, muscle, and joint injuries
Wound care
Sudden medical and environmental emergencies
Emergency First Aid and CPR B or C
Lay public, workplace, interest
Work place, education, professional requirements
Preparing to respond and EMS Systems
Check, Call, Care
Airway, breathing and circulation emergencies
First aid for respiratory and cardiac arrest
Standard Child Care Providers First Aid and CPR
Parents, child care workers, ECEs, teachers
Covers content in Standard First Aid
Tailored to childhood injuries/emergencies
CPR A
Lay public, workplace
Adult CPR– one rescuer
Adult choking
CPR B
Lay public, workplace, parents, child care workers
Adult/Child/Baby CPR – one rescuer
Adult/Child/Baby choking
CPR C
Police, fire, first responders, workplace response teams, lifeguards
Adult/Child/Baby CPR – one and two rescuer
Adult/Child/Baby choking
CPR HCP
Physicians, nurses, paramedics, allied health professionals RTs, PTs, OTs
Adult/Child/Baby CPR – one and two rescuer
Adult/Child/Baby choking
Pulse check
BVM
Rescue breathing
AED
Automated External Defibrillator certification
Stand alone course for candidate who has current CPR course at any level
CPR and AED combo classes available as well
Re-certification Courses
Available for all courses except CPR A
Students must have current certification
Courses must be re-certified every 3 years or unless otherwise stated by the workplace
One re-cert course is permitted and then the full course must be taken again
CHILD & TEEN PROGRAMS
Babysitting Course
Must be 11 years of age
Child care skills, handling child safety and emergency situations
Games and ways to have fun with the children your babysitting
Babysitter rights and responsibilities